At Doddington Aerials & Satellites we believe it is important you can see exactly what we can do with aerials and satellites, please find below photos which show examples of our work. If you click on the navigation menu to the right you can see even more photos of our work by category.
Sky TV Installation!
Aerials & Satellites will install your Sky HD and surround sound system!

Hidden Satellite Dish Install!
Discreet satellite dish installation hidden at the rear of the property on top of the garage flat roof.

TV Aerial to Multi-Rooms!
DAT45HD high gain aerial serving 3 bedrooms, lounge and kitchen with satellite dish serving only the lounge.

Professional TV Wall Mounting!
Doddington Aerials & Satellites will wall mount your TV for you!

TV Systems for Flats!
Fully qualified IRATA rope access technicians; this means that we can access almost any building using our abseiling equipment, for us height and complexity of a job is not a restriction! This is an example of a communal IRS system installation.

Freesat and Sky TV for Flats!
Communal satellite system providing freesat and Sky to a block of flats.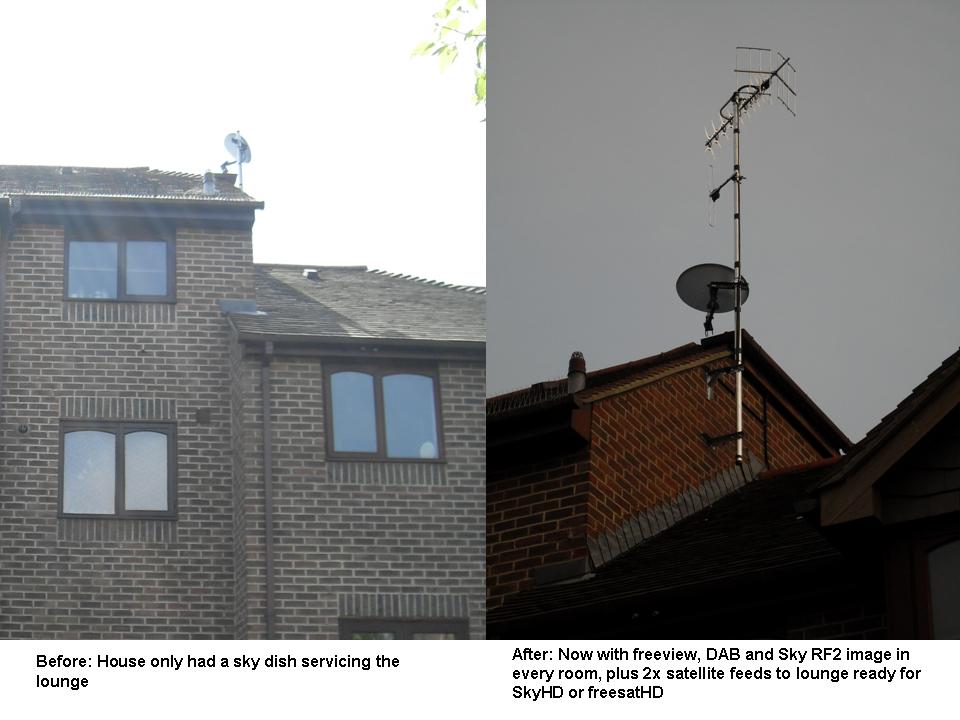 Brighton TV Installation case study:
When we arrived at this house in Brighton (above) the owner only had Sky TV in the lounge. To allow the family to watch TV throughout their home we installed a satellite TV system to three bedrooms, the lounge and dinning room. Each room is now complete with freeview, DAB and if desired the ability to watch and control a Sky receiver that is located in the lounge. The lounge also has freeview, DAB and two satellite feeds ready for Sky HD or Freesat HD PVR.